Google Calendar sync is a feature that allows you to synchronize Rezervy booking system with Google Calendar. This feature enables you to manage your bookings and appointments in one place. Rezervy support 2-way sync of google calendar. It can block your availability on booking form according to Google calendar events. Also, it can add your Rezervy booking to your google calendar as well. So, you never miss your appointments.
How to configure Google Calendar Sync in Rezervy?
Here are steps to configure Google Calendar sync:
Login to admin dashboard
Go to "Setup" menu from dashboard
Under "Additiona" go to "Google Calendar"
You can set "Google Calendar Status" to enable/disable.
You can set "Google Calendar Two-Way Sync" enable/disable.

If enabled: Rezervy will add bookings on your google calendar and also block availlability in Rezervy booking form according to your google calendar events.
If disabled: If disabled, Rezervy will add your booking on google calendar. It will not block availability according to you google calendar evevts.
Set "Google Calendar Client ID"
Set "Google Calendar Client Secret"
Steps are given at the bottom of page to find and create your Client ID & Client Secret credentials.
Click on "Update Settings" button when these settings are set.
Once settings are saved Click on "Connect your Google account" button.
Complete the authentication and you will be redirected back to same page.
Choose your calendar to sync from "Select Calendar" list and click on "Update Settings" button.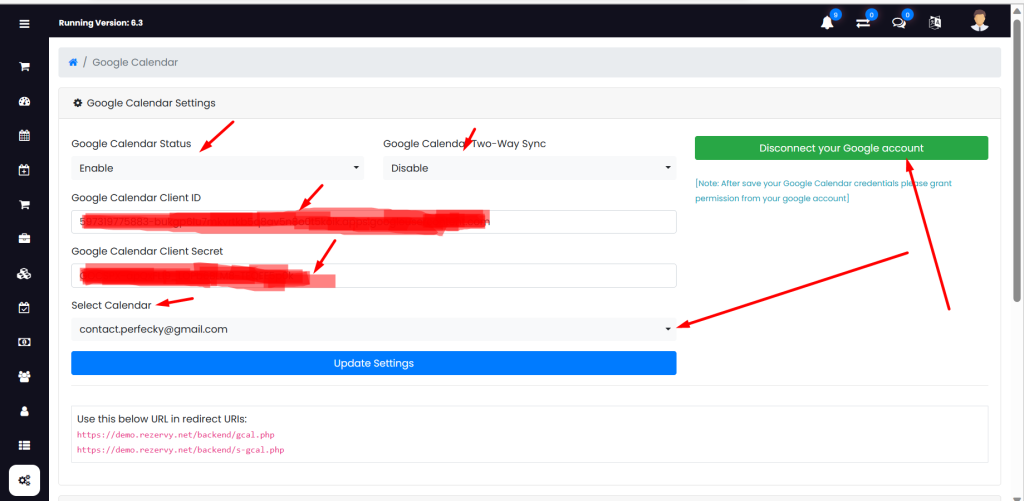 I hope this helps! Let me know if you have any other questions.