Appointments Calendar AddOn in Rezervy extends the dashboard calendar functionality for admin. Easily change appointments between staff using drag & drop feature of Rezervy Calendar Addon. Filter appointments by staff. Filter appointments by service. Using appointment calendar add-on , list appointments in Month view, Week View , Day View & List view. Date picker to view different date appointments quickly. Add break on calendar for specific staff. Drag & drop break to specific slot. Shrink & Expand break/book slot, booking time just from Calendar.

Important: This plugin is an add-on that requires the Rezervy installed and activated. View Rezervy page at Codecanyon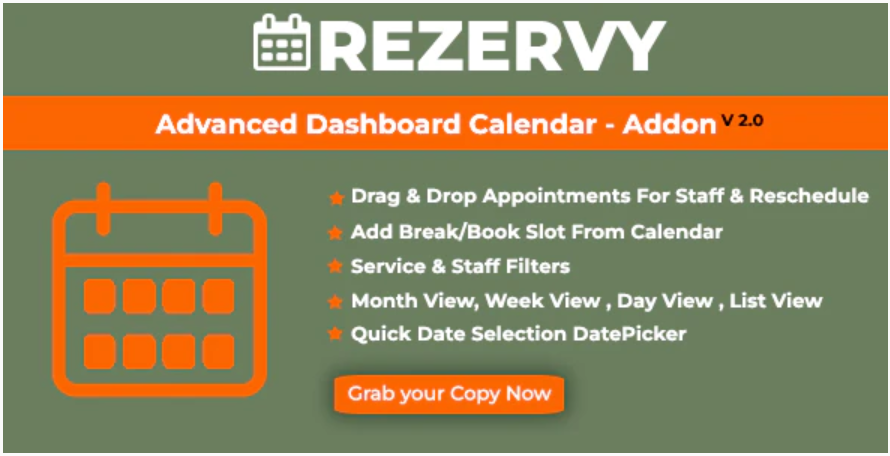 Features:
Month View, Week View , Day View , List View Of Appointments
Drag & Drop Appointment Between Staff
Filter Appointments By Staff
Filter Appointments By Service
Add Quick Break/Block Time For Staff From Calendar
Drag & Drop , Shrink , Expand Appointment/Break/Block Duration On Calendar
Demo Url:
Url: CLICK TO VIEW REZERVY CALENDAR ADD-ON DEMO
Click on login button once demo url page open
You will be redirected to Calendar Page
Click here to know How to install & activate addon?
Purchase & download Add-On zip
Place zip inside: ~/rezervy/addons/
Unzip and your folder path of calendar addon should be like: ~/rezervy/addons/advanced-calendar/
Goto this url: https://myrezeryurl/backend/external-addons.php
Verify your purchase code & activate add-on
Enjoy it, That's all :))))

I hope this helps! Let me know if you have any other questions.