Do your clients book the same service regularly? Why not offer them a package using Packages addon? You can set discounts on packages to encourage more sales and increase customer loyalty. And you can set a validity period to make sure customers use their package deals.
Services packages addon helps you to create bundle of services and addons for your customers. Customer can buy package while booking and use package free service and addons credits for same and upcoming bookings. Services packages addon boost your sales by offering bundle to customers. With services packages addon you can create unlimited packages. You can set unlimited credit limit for specific service or addons. You can define validity days for each package. You can link package with specific service only and it will only display for customer when that service will be selected. Both admin and customer can view package purchases and usage history of credits as well. Customer can hide specific package on checkout listing as well if all credits over before expiry. Packages addon offer abilty for customer to buy more then one package at same time and much more…
Important: This plugin is an add-on that requires the Rezervy installed and activated. View Rezervy page at Codecanyon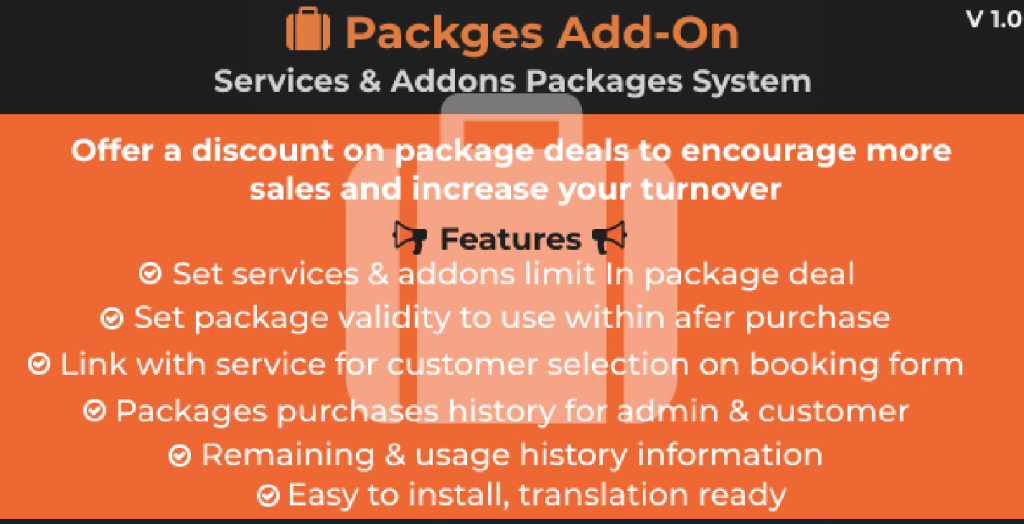 Features:
Unilimted packages create abilty
Abilty to set services and addons free credit limit for each package
Link package with service for customer selction when assigned service selected
Abilty to set validty period after purchase, for each package
Abilty for customer to buy more then one package at same time
Abilty for customer to use package credits for same and upcomming bookings
Packages purchases listing in admin and customer dashboard.
Packages credits usage history in admin and customer dashboard.
Ability for customer to hide credit over package display on checkout.
Fully translation ready
Modern & fully responsive design
& much more…
Click here to know How to install & activate addon?
Purchase & download Add-On zip
Place zip inside: ~/rezervy/addons/
Unzip and your folder path of calendar addon should be like: ~/rezervy/addons/services-package/
Goto this url: https://myrezeryurl/backend/external-addons.php
Verify your purchase code & activate add-on
Enjoy it, That's all :))))
I hope this helps! Let me know if you have any other questions.