Plivo SMS gateway is popular SMS communications provider. Plivo is a cloud-based SMS gateway that enables businesses to send and receive SMS messages at scale. It has over a billion API requests every month, its globally distributed direct to carrier network and intelligent routing ensures highest SMS delivery and lowest latency.
Here are steps to configure Plivo SMS gateway:
Login to admin dashboard
Go to "Setup" menu from dashboard
Under "Settings" go to "SMS Settings"
Click on "Plivo Settings" button and modal will open
Change "Plivo SMS Gateway Status" to "Enable"
Configure other credentials detail and click on "Save Settings"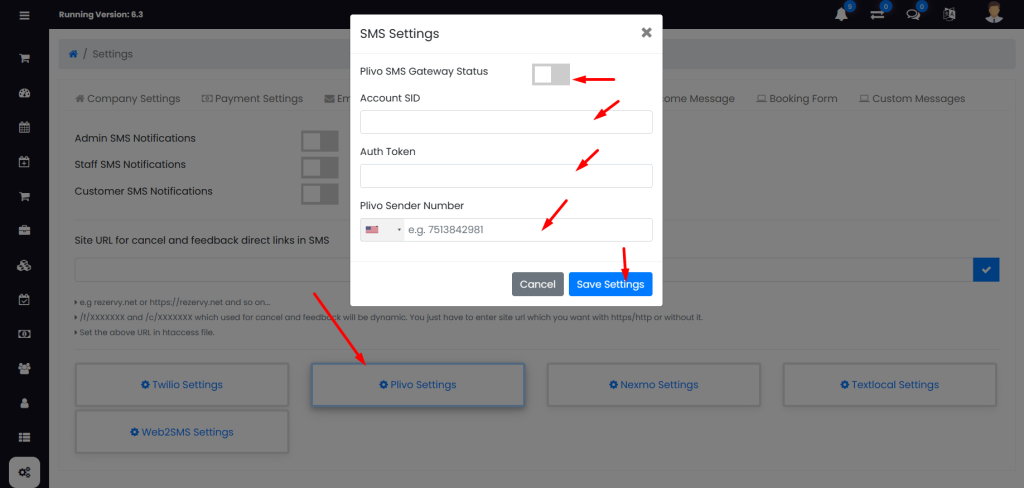 How to find your Plivo account sid, Auth Token and Plivo Sender Number
To find your Plivo Account SID and Auth Token & Sender number you can:
You can find your Plivo account SID and Auth Token at the top of the home page of the Plivo dashboard. Click on the eyecon next to the Auth Token to make it visible. To find your Plivo Sender Number, sign in to the Plivo console and navigate to Messaging > Sender IDs. Click the Register Sender ID button and follow the instructions.

I hope this helps! Let me know if you have any other questions.